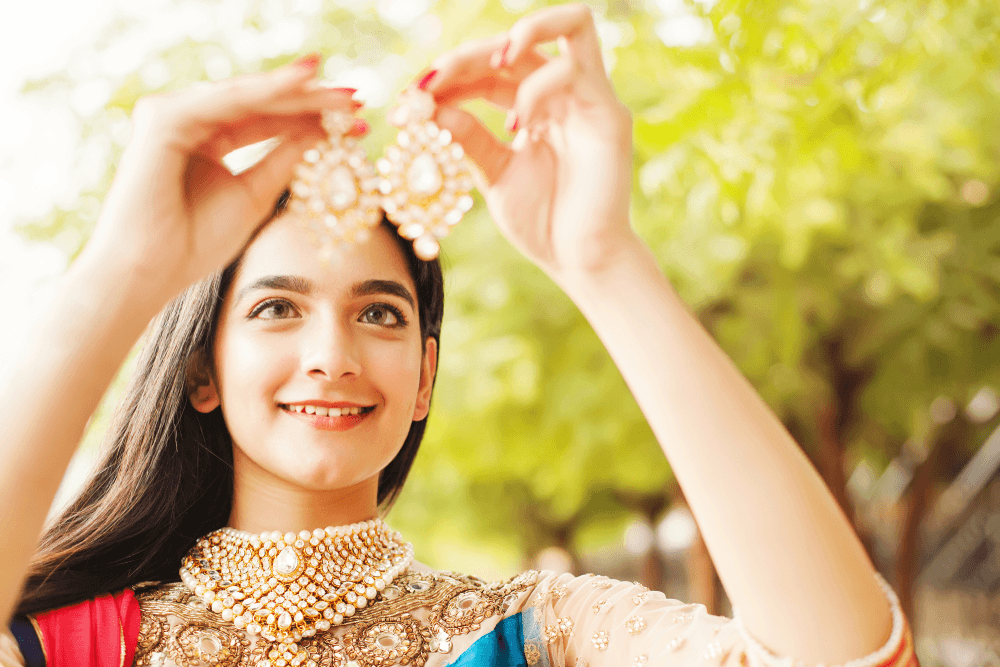 How to Choose Jewelry According to Your Face
Today, there are various types of jewellery available in the market. Lots of necklaces, earrings, bracelets and other types of jewellery are available in markets and Every year many different types of jewellery out of the trends. Today, we will help you to choose the best Jewelry for you according to your Face Shapes. Before this, we will tell you about the five types of faces shapes. Which is, Round, Heart, Square, Diamond, and Oval. These are five types of face shapes according to which we will help you to choose the best Jewelry for your face shape.
Heart Shape or Inverted Triangle
The heart shape is also known as Inverted triangle shape. If your face shape is in the heart shape that means your face upper and the middle part is widest and the lower part is diluted. So, you need to add some width in the lower part of your face. For this, you need to wear those types of the earring which length is up to your face lower part or at least down to your chin. You should try to wear the broad earring for getting balanced face looked. The good thing for you is the best suitable earring for you is now in trend and you will get it easily in the market.
Necklaces designs for heart-shaped face- The perfect length of necklace for your face is choker length and collar necklace design. You can also try the princess length necklace.
Round Shape
If your face shape is round that means your face width and length is the same. when you should try those types of the earring which creates the illusion to your face with the length. The perfect earring according to your face shape is long length earring. But, Make sure their shape not round. If you want to try to wear small earring then you should try Huggies.
Necklace- You should wear long length necklace whose length can be up to the bottom of the bust area.
Oval Shape
The oval-shaped face is the shape in which your face's length is more compared to the width. This is considered the perfect type of face shape. Because of, every type of jewellery suit on these types of face. This type of face does not have to work harder to wear ornaments. Every type of jewellery suits them. Not only for jewellery but all hairstyle also suit on this face shape. The big benefit of this face shape is if your face shape is oval then you can wear all types of earrings and necklaces.
Square Shape
In Square face shape Your forehead, cheekbones and jaw are about equal in width, your face as long as it is wide, or slightly rectangular. Perfect earrings for Square Shape face is you can wear big hoops, which bring roundness in your face. You do not have to wear structural design earrings as angles, sharp ages, rectangle. Curved shaped earrings will also look good on you.
The perfect necklace for you according to your face shape is long length necklace. Means that types of the necklace which creates 'U' shape or curved shape after wearing. Please avoid wearing chokers necklace.
Diamond Face Shape
In this face shape, the middle part of your face is wide and the forehead and chin are thin. like a diamond shape. Some of the people have confusion between heart or diamond face shapes because in both shapes the middle part of the face is wide. but both are not the same because in diamond shape the forehead is thin and in a heart shape face the forehead is wide. Diamond Face Shape is also a face shape on which all earrings and necklaces design suits. You should wear all types of earring and necklace looks good on you. Please always avoid that's types of the earring which adds width in the middle part of your face. Because these types of earring showing wide to your cheekbones areas, which is already a wide area of your face. You may wear long and round shape earrings. Because your chin area is less and long length earring create a balance according to your face shape. You can wear heavy dangle earring, hoops earring, teardrops earring, and all styles of the earring which you likes. Please avoid wearing wide and small earrings. Like oval shapes, all types of necklaces or neckpiece is looked good on you. So, those who have an oval and diamond-shaped face, you are lucky because all types of jewellery are suits on you.
Now that we are talking about jewellery, one thing which you have to keep in mind and that is what is your skin undertone? If you are warm undertone then you should wear Gold and Golden related shades that Will look good on you. And if your skin is cool undertone then silver, dull silver, bright silver jewellery will be best for you. At last, I tell you one thing which is important, always wear anything with full of confidence, because when you wear anything with full of confidence So you look good automatically.
Jewellery is all about mixing and matching styles to create your own. At Lohiyas Galleria, we have an exhaustive collection of jewellery to suit every skin tone. Check out our showroom today to find your perfect match.
---