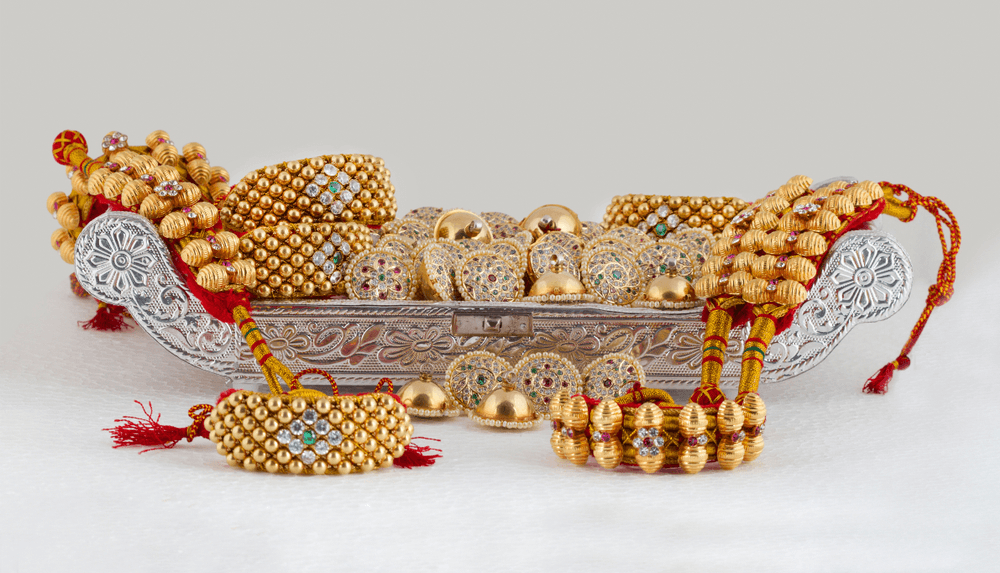 Rajasthani Bridal Jewelry Collection
Rajasthan, the royal state of India. Is known for the majestic palaces, ancient forts, awe-inspiring Havelis and the fascinating history. Apart from this Rajasthan is also recognized as the most romantic wedding destination in India. Many palaces have been transformed into luxury resorts, which are ideal for anyone who dreams of a fairy-tale wedding. Also, we all familiar with the popularity of Rajasthani jewellery. Today all top Bollywood actress loves to wear Rajasthani jewellery. Many of Bollywood actress worn Rajasthani jewellery in their blockbuster movies. some of them are Jodha Akbar, Prem Ratan Dhan Payo and Padmavati, the list is long. Mostly Indian brides are like to wear Rajasthani jewellery at her wedding. Here, We are telling you about some Rajasthani jewellery designs and styles. After wearing that you will really feel majestic.
Kundan jewellery
It is an ancient art of jewellery making was conceived in the royal courts of Rajasthan. Since then, Jaipur has been the centre for Kundan jewellery. Traditionally, it was made with gold and unique glass stones called Kundan stones. Today they are made of gold and uncut diamonds and other precious and semi-precious stones. Thin foils of highly refined pure gold or 'Kundan' is beaten and stuffed in between the gold framework and the stones to create this style. In some cases, the reverse side of the jewellery is enamelled in colourful Meenakari designs. This variation is called Kundan Meenakari. Kundan jewellery has come more in the spotlight ever when Aishwarya Rai played a princess role in Jodha Akbar movie and wore heavy Kundan jewellery.
Polki Jewellery
Polki jewellery is made of unfinished natural diamonds. It is basically an uncut diamond that is mined from the earth in a natural way without any enhancement or lab creation. The Polki jewellery is always in great demand and highly valued because of its natural form. Polki jewellery is made exclusively with gold and unfaceted or uncut diamonds. Hence Polki jewellery is generally more expensive than Kundan, although both follow the same process of jewellery making. The ancient art of, Thewa jewellery is a blend of gold and glass while the colourful Jaipur Meenakari jewellery is a fusion of gold with different colours and beautiful artwork. Really when a Rajasthani bride wears a heavy Kundan, Polki Jewellery and traditional lehenga choli or Rajputi dress on her wedding day, she actually looks like a Rajput princess. Now we tell you about Rajasthani jewellery, which is worn from head to toe by a Rajasthani bride.
Rajasthani Ornaments Which Are Worn by a Bride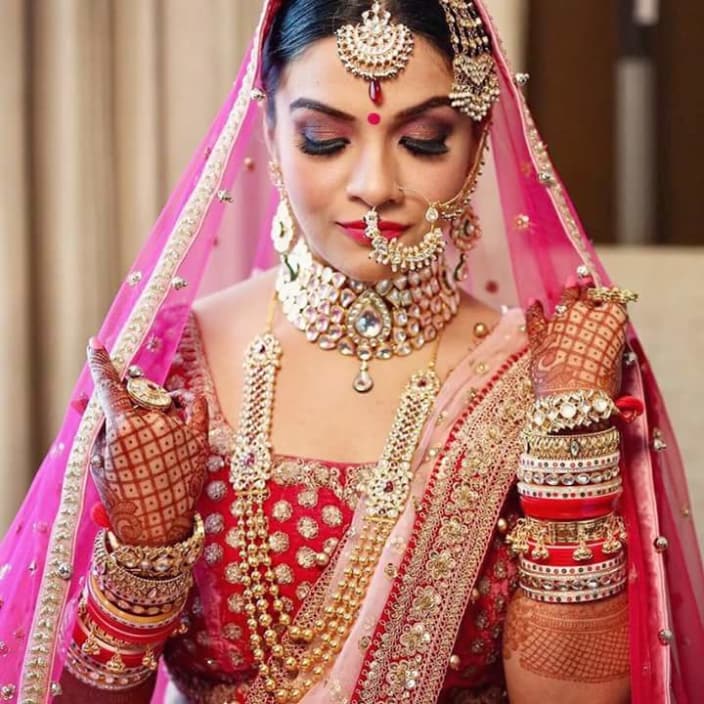 Maang Tikka
It is called 'Rakhdi' or 'Borla' in Rajasthani. The signature piece of the state because unlike other styles, it usually finish in a huge bell-shaped or spherical piece embellished with precious stones.
Sheeshphool
It is a chain of small Rakhdis which forms a headband. Some wear 'Khaancha' in addition to Sheeshphool. The Khaancha is a band worn on the upper forehead and has the Rakhdi attached at its centre.
Nath
The 'Nath' of 'Nathni' is a nose ring worn on the left nostril, complete the adornment of a bride's face and ensure that the bride looks her absolute best.
Earring
The earrings are worn are usually worn by a Rajasthani bride is known as Kundal Bhutti. It is a long and very thick Earrings worn by the bride, it can often reach as low as the neck of the bride.
Necklace
A special necklace called "Aad" is worn around the neck, Is a signature style of the Rajasthani Bride. Another a larger and more elaborate necklace is also worn by the bride which is called "The Raani Haar" or Queen's necklace. The choker necklace of uncut diamonds called 'Timaniyaan' likes every bride.
Bangadi
A two gold bangles set called Bangadi are usually wears by a Rajasthani bride.
Gokharu
The broad gold bracelets, usually worn by almost all Rajasthani women.
Choora
This is red bridal bangles made of lac which is worn with gold bangles encrusted with precious stones and diamonds.
Bajubandh
Bajuband is a special ornament often worn in Rajasthani weddings. It is worn on the upper arm by the bride and is made of gold and precious stones or Meenakari designs.
Haath Phool
The elaborate 'Haath Phool' designs are a testimony to the Mughal influence on Rajasthan. It consists of a statement centrepiece which is joined to the rings on each finger and the wrist, with chains of gold and precious stones, decorating the back of the palm and wrist.
Kamar Bandh
It looks like a chain also called 'Kamar Bandh' or 'Kardhani' or 'Tagdi' made of gold and Polki or Kundan accentuates the waist.
Bichiya
'Bichiya' that is a toe ring, usually made of silver and stones. It is a mark of a married woman and is gifted to the bride on the eve of the wedding. Anklets also known as 'Payal', made of gold and precious stones adorn her feet.

---